When setting up your campaigns on AdEspresso, you may have a campaign that has an entire funnel of conversions you want to track instead of just one.  For those campaigns, you should be setting up multiple goal tracking.
Setting up a campaign's conversion tracking is done in AdEspresso during step 2: Ads Design under "Goal Tracking". From here, you can select whatever conversion you want to track in your campaign. You can click the + to add in another conversion to the list!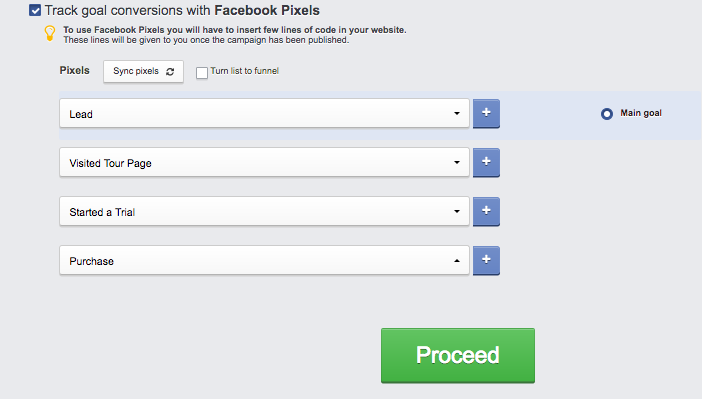 Common Questions
Not seeing your conversion? 

You can click "sync" to ask AdEspresso to look again.  

 Want to set up a funnel? 

Click "Turn list to funnel" to have the conversions aligned in a specific order!

If you're tracking unrelated goals, such as a Sale and a Newsletter subscription, do not enable this option.

By enabling "Turn list to funnel" option, you're telling AdEspresso that you're creating a multiple step funnel and you'll be able to sort the order of your conversions and will see a slightly different analytics.

  A typical example of a funnel would be:

Add product to cart
Start Check Out Process
Create an Account
Payment
Order Confirmation
 Setting a Main Goal 

 Once you've added your conversions, select the one that is your main conversion. The selected goal will be used as the main conversion for AdEspresso's reporting, and for any rules set up using CPA. 

How do I optimize for a specific conversion event?

You can change this behavior in Step 4: Budget & Bidding. Open the advanced options box at the bottom of the page and select for which goal you want to optimize using the drop down menu.