Under the Tools box of your AdEspresso dashboard, you can find our Report Generator! You can use this tool to create custom reports that can be downloaded directly from AdEspresso or scheduled to be delivered to certain email addresses. Alternatively, you can select one our PDF templates or create customized templates yourself, it's super easy!
From the Report Generator section, you can choose one of our three Template Reports or a Blank Report, then click on "Setup Report" and set your report up with a Name and what you are reporting on.
You can create a report from:
Campaigns
Tags
Ad Accounts
We offer white label report creation for our Elite users only. Elite users would be able to use custom themes for the report, and even include a custom logo!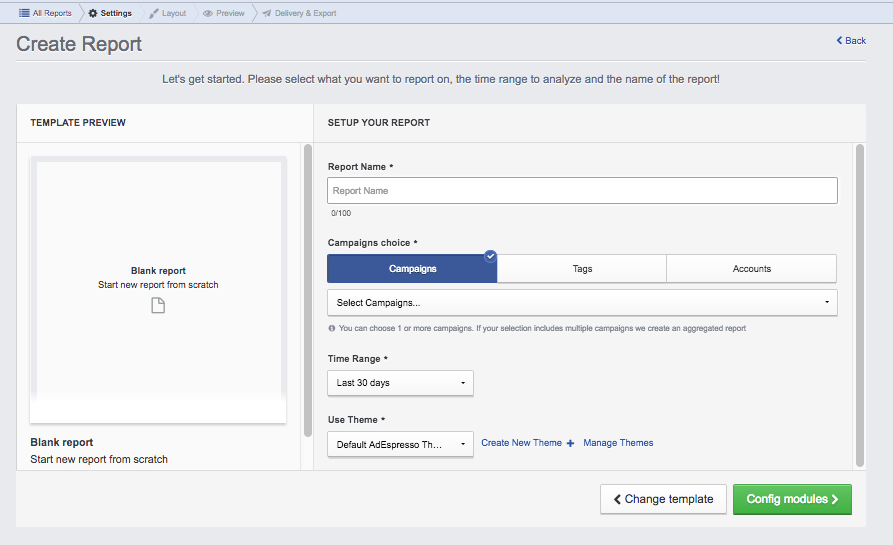 Once our settings are managed for the first step, we can click on the green "Proceed" button.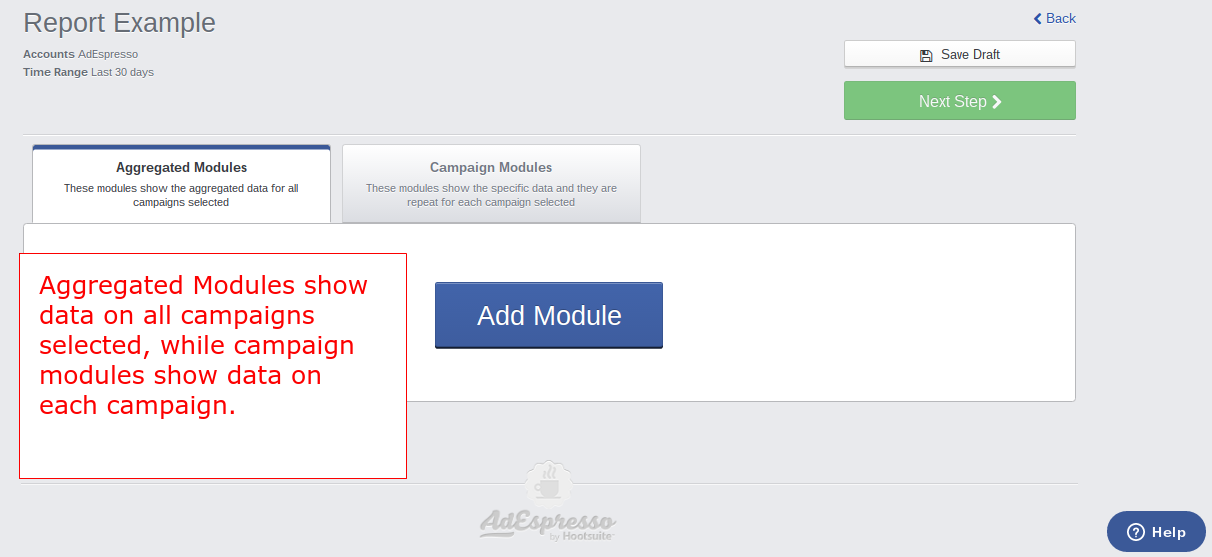 More information on the different module types can be found in this article! For the sake of this guide, we will stick with campaign modules.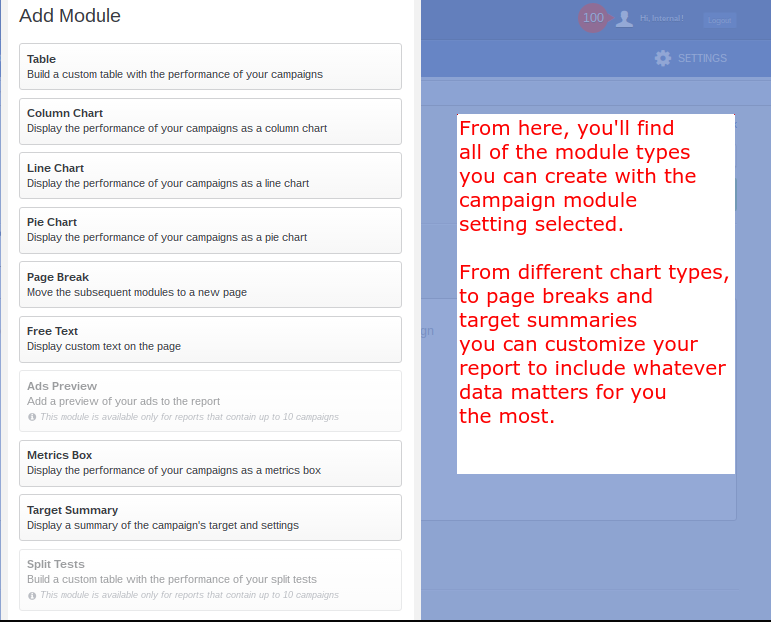 Once you selected the module type you want to use, you'll see another pop-up where you can select which performance metrics and detail level you want the chart or module to use. You are able to insert a title for your module's from the top of the pop-up, and see how your chart or module looks as you select performance metrics and details.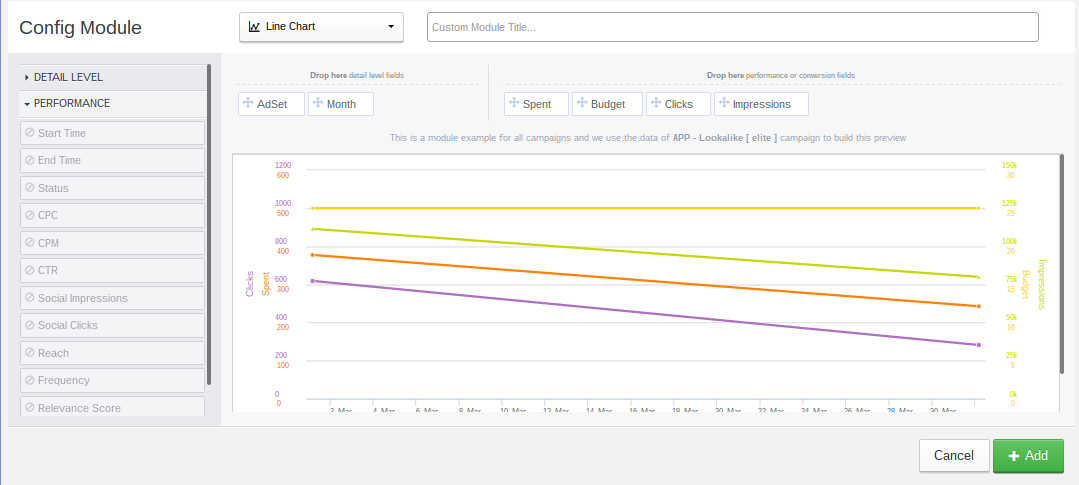 When the module is complete, click the green "Add" button and return to the module's page where you can decide to create more modules of data, save a draft of your report or proceed to the next step of the report creation.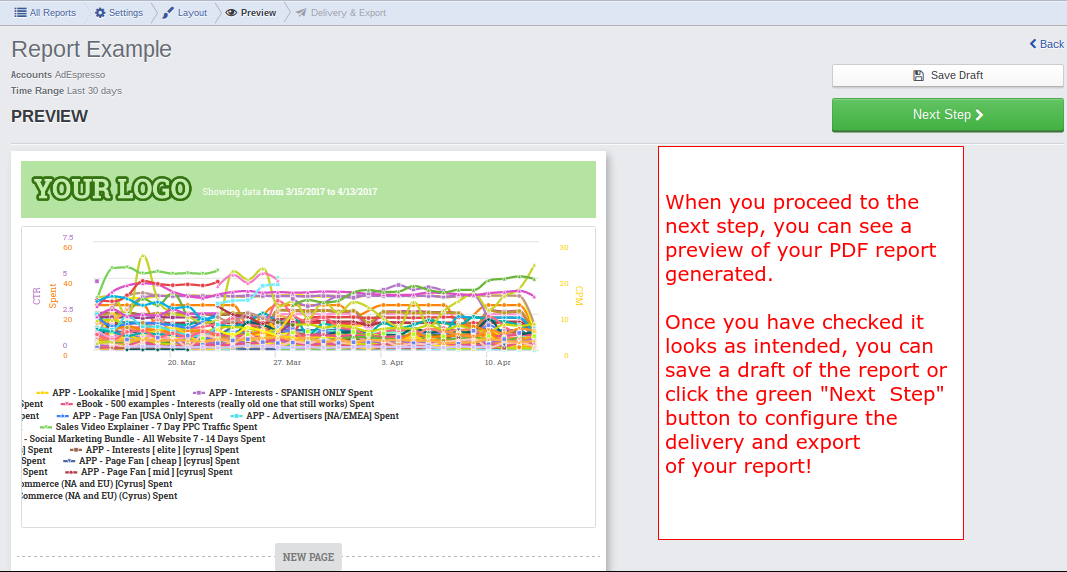 After checking the report preview, when you proceed to the next step you'll be presented with the option of delivering the report to whatever email addresses you need, or downloading the report from your AdEspresso dashboard.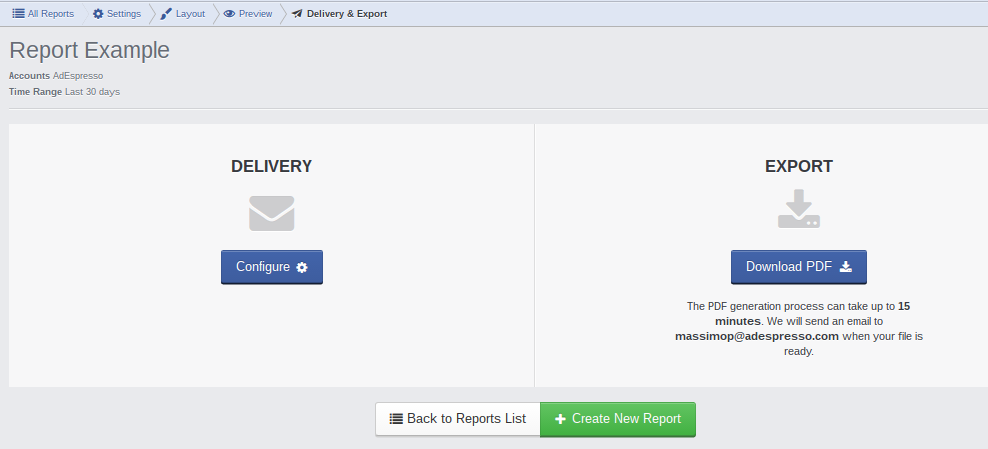 Your report can be delivered to as many email addresses as you need.
The delivery options include:
Monthly - first or last day of the month
Weekly - specific day of the week
Daily
You can also select the time of day in a specific timezone that the report email is delivered. Ensure that the selected timezone corresponds to the timezone of the ad account used in the report. The reports can be sent with a custom email subject and message.