When you're creating your Facebook campaigns, things seem to be going well, and suddenly your performance drops; if you've tried every trick in the book to get things back to normal, it is always a comfort knowing the AdEspresso team is here to help you every step of the way.
That's why we developed our Marketing Services team. As one of our Marketing Services, you can purchase campaign reviews at a cost of $47 per review. You will receive a video within a business day copying your campaign in AdEspresso and going over everything you can do to improve your delivery and results.
Reviews can be requested for campaigns created in AdEspresso directly inside the campaign dashboard. The campaign review button is located in your "campaign target" box right under and to the right of your main dashboard.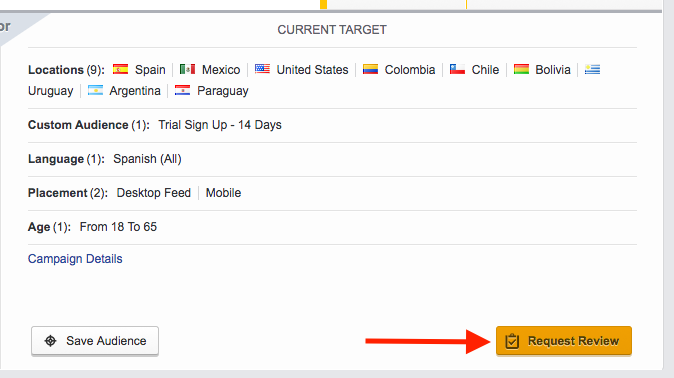 To request a campaign review
Click Request Review and fill out the form. On the first step you can choose the language of your Campaign Review and there is also some space to leave a message for the reviewer if you need particular topics to be touched on. At the moment we offer this service in 4 languages: English, French, Italian and Spanish.
Choose a payment method and confirm your billing information.
Review all the info before submitting, and then click Request.
Once requested, you can track your campaign's review status directly on your campaign's main dashboard. The statuses are "Review requested", "Review in progress" and "Review completed".