When you access your AdEspresso account and start creating a campaign, you'll see a section called "Tags". Tags are an awesome way to organize your campaigns and create really granular views of your data. For every tag that you create and file campaigns under, you can create a separate dashboard to view your campaigns with.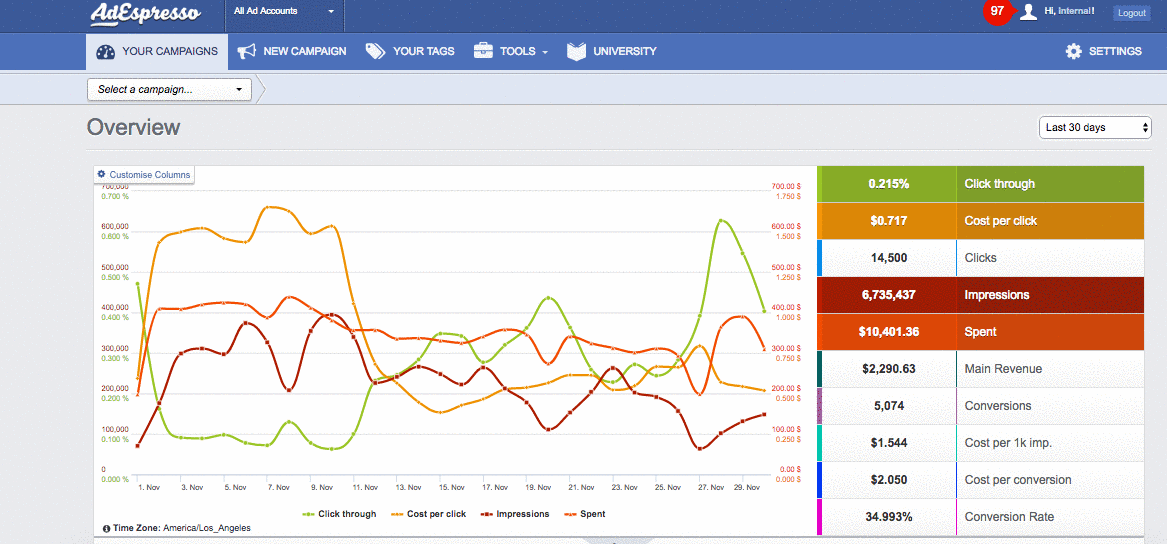 Your Tag tab will only appear once you have added at least one Tag for a campaign.
You can organize your campaigns in a few different ways. Some examples include:
Page Name / Client name
Ad Account (useful for a view of all the campaigns, whether they are paused or active) 
Objective of the campaigns, such as Page Likes, Conversions (sorting by "main conversion type") , Post Engagement, etc.
Product Promoted
Event / Holiday
Year / Month
Duration of Campaign
Buyer Persona / Customer Segment
Tips
If you are a marketing agency, you can use tags to organize your campaigns according to your client's name, so as to simplify report and invoice creation.
In the following example, we are creating a campaign called "Like campaign" and we are using the tag "likes."

After creating the campaign, you can easily find it by clicking on the "Your Tags" drop down on the upper bar of the AdEspresso screen.

In the "tag" section, you can also see how many campaigns use a certain tag and all your metrics. You can also click on "likes" to see a dashboard showing more specific information on each of the campaigns using that particular tag.
You can easily add or remove tags on the campaign's dashboard, you just have to scroll down the page and you'll find "Your Tags" after the "Budget and bidding" section.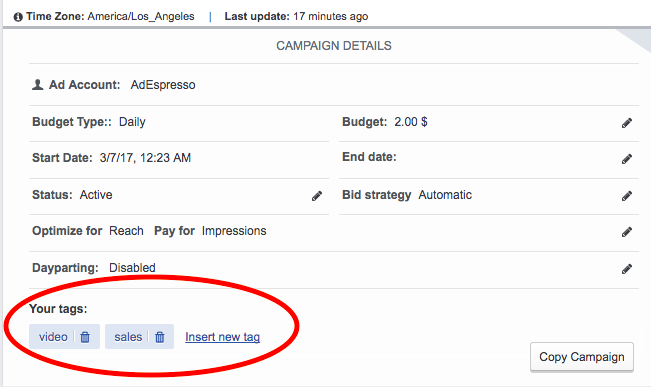 Keep in mind that at the very upper top of the AdEspresso screen, you will see a drop down of all ad accounts that has at least one campaign. If you are currently inside a specific ad account, Tags may contain less campaigns based on the Ad Account you are viewing!