Video is an increasingly popular ad type, especially to promote brand awareness. Video is also proven to have a large organic reach on Facebook. AdEspresso lets you create video ads by promoting your external website. Note that the Messenger home placement is not supported for video ads.
To create a video views campaign without promoting an external website, create a video views campaign.
To create a video ad
Click New campaign on the main navigation bar and proceed to create your campaign as usual.
Under What do you want to promote? select External Website.
On the Ads Design step (2), click Videos to upload videos instead of Pictures.

Click Upload new video or Select from your gallery.
Note: If your video is over 2 minutes long, remove Instagram as a placement in the Placement & Previews section first to ensure the upload is successful!
Once your video is uploaded, select a thumbnail for the video from your gallery or a video frame, or click Upload new image to upload a custom thumbnail image.

Optional: Upload SRT files to include captions with your video. More details
Optional: Click Add Video + to run a split test between one or more videos and find out which one converts best.
Once your campaign is live, monitor the performance of your video ads in your campaign's Dashboard in the Relevance and Engagement section.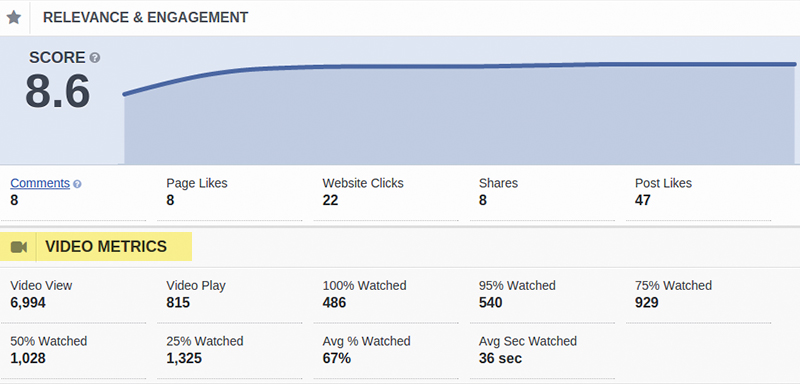 Include captions with video ads
Include video captions in any language by uploading a SubRip Subtitle file (SRT file). Multiple files can be uploaded for each video. They must be saved with the following naming convention to upload successfully: filename.[language code]_[country code].srt.
Refer to this help article for valid language and country codes.
To upload an SRT file
After uploading a video during campaign creation (step 4 above), a file icon will appear over the thumbnail.
Click the icon to add your SRT file. You will need to be signed into Facebook with a user that has admin permissions over the ad account to add subtitles.

Click Upload a .srt file.

Optional: Select a backup language, so if people see your video who don't match any of the languages included, they'll see captions in the backup language (e.g. if you upload captions for IT and US, and you choose US as backup language, people outside Italy and the United States will see the US captions).
Note that SRT files are linked to the video, not to the campaign. Editing captions will therefore change them on every running campaign that uses that video. To edit captions, click on the caption icon on the bottom-right of the thumbnail. A pop-up will appear showing your already added captions and giving you the option to delete them or add new ones.
Video ads allow you to optimize for link clicks, impressions, unique daily reach, landing page views, post engagement, thruplay, and 2-second continuous video views. You can pay for link clicks or impressions.

Note that 2-second video view optimization only needs 50% of the video on the screen. Someone scrolling slowly can trigger this. To emphasize quality over quantity, thruplay is the default in Facebook.
Additional resources: