Scheduling
Create and publish campaigns in advance, but schedule them to start running at a later date. On the Budget & Bidding step (4) of the campaign creation workflow, a start date and time are required for every campaign. Campaigns with future start dates are still published to Facebook so they can go through Facebook's approval process. Then they'll be ready to start running on your selected date. End dates are optional.

Dayparting
When you create a campaign in AdEspresso you can use dayparting to select the days and hours your campaign will be active. During the time periods not selected, your campaign will be paused. This is useful if for example you are targeting a specific time zone, because you can pause your campaign while your target audience is sleeping. Dayparting can also be used to run a promotion for only a few hours each day.
Campaigns must be scheduled using your account's time zone, and this time zone cannot be changed.
Note that dayparting is disabled for campaigns using Campaign Budget Optimization (either imported or enabled after publication) as dayparting is not available for these campaigns.
To schedule your campaign
On the Budget & Bidding step (4) of campaign creation, click Advanced options.
Click on the Dayparting calendar to highlight the hourly blocks during which you want your campaign to be live. The time zone used for your schedule is displayed just above the calendar.

You can add or edit your dayparting after your campaign has been published by going to your campaign dashboard and selecting the pencil icon next to the Dayparting section. Simply add/edit your schedule and select Save when finished.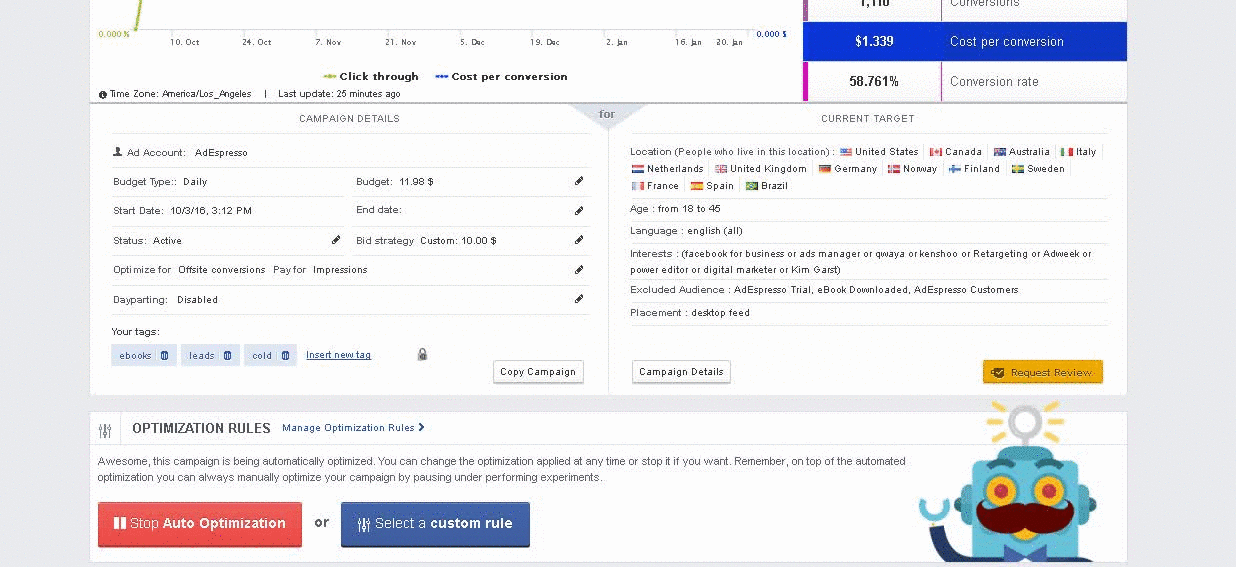 Notes:
If you pause your campaign from an external tool (ie: manually from Facebook), dayparting in AdEspresso could override that and reactivate the campaign.
Campaigns will appear as Active in your AdEspresso campaigns list even during the "inactive hours" of your dayparting schedule, while on Facebook they will appear as paused during the inactive hours.