You can make copies of existing Facebook and Google campaigns or drafts created in AdEspresso, but imported campaigns can't be copied. Copying is also available at the adset and ad levels.
Copying creates a new campaign with all the same features of the original including target and bidding. Any of the new campaign's parameters can then be changed before publication.
Note that any social proof collected on the ads (likes, comments and shares) will be copied over, but only if the ad creative (or the post if promoting a Page post) is not edited.
To copy a campaign
Click Your campaigns on the main navigation bar, click Search a campaign, and then navigate to the campaign's dashboard.
In your campaign's Dashboard tab, scroll down to the Campaign Details box just below the graph, and then click Copy Campaign.

Click Copy.
Tip: To copy a campaign that is pending or a draft, select the campaign from the drop-down menu, and copy the last 7 digits of the URL - this is the campaign ID. Then enter this URL: https://app.adespresso.com/campaign/new?copy=******* into your browser with the 7 digits in place of the ******* to generate a copy.
You can also find a list of your latest Facebook and Google campaigns on the home Overview dashboard. From the Campaign Creation widget, click the arrow to use a recent campaign as a base to create a new one.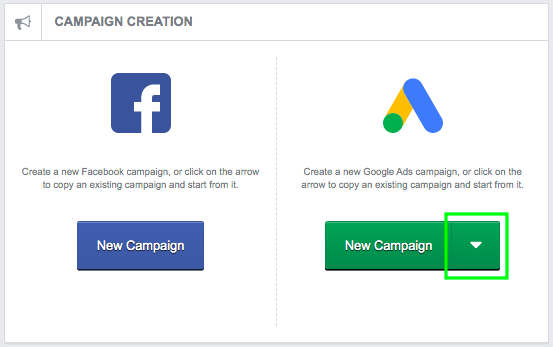 To delete a campaign
This will also delete your campaigns from Facebook or Google! There is no way to restore a deleted campaign.
Click Your campaigns on the main navigation bar, click Search a campaign, and then select See all campaigns. Or click here to go straight to your All Campaigns page.
Check the box to the left of the campaign(s) you wish to delete, and then
click Delete .