Tags are a great way to organize your Facebook campaigns and create different granular views of your data. Categorize campaigns by adding tags to them during campaign creation, or after they have been published. Once tags are applied, you can view a dashboard of results and metrics by tag, viewing all campaigns under that tag at once. Reports can also be created by tag in the report generator.
Marketing agencies, for example, can use tags to organize campaigns by client name, to simplify report and invoice creation.
You could also use tags to organize campaigns by:
Page name
Ad account (useful for a view of all campaigns, whether they are paused or active)
Campaign objective, such as Page likes, Conversions (sorting by "main conversion type") , Post engagement, etc.
Product promoted
Event or holiday
Year/month
Campaign duration
Buyer persona or customer segment
A Your Tags section will appear in the main navigation of your account once you have added your first tag to a campaign.
To add tags
A. On the first step of campaign creation, below the campaign name and ad account, enter the tag(s) for the campaign. Separate tags with commas. Then complete and publish the campaign.

B. Or, navigate to the campaign dashboard of an already published campaign. In the Campaign Details section, click Insert new tag and add a new tag to the campaign. This is where you can also remove tags from a campaign.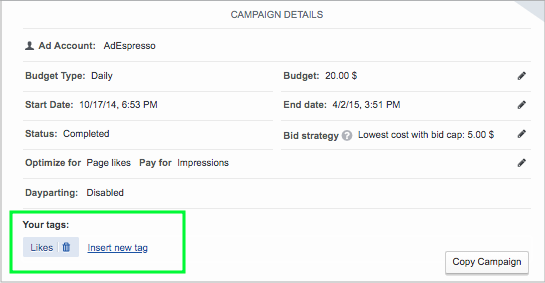 When your dashboard is refreshed, a Your Tags section will appear on the navigation bar.

This section lists how many campaigns use each tag. Click a tag name to see a dashboard showing aggregated data for the campaigns using that particular tag.
Note: Keep in mind that at the very top of the AdEspresso dashboard is a drop-down of all ad accounts that have at least one campaign. The tags visible, and the campaigns shown for each tag, may depend on which specific ad account is currently selected.